Ascolane olives: the Grannie's recipe
In Ascoli Piceno everyone prepares deep-fried ascolane olives (or stuffed olives) with little variations on the recipe remembering their grannies and mothers at work. This is the recipe which was used by Grannie Bice. It presents some changes from the original one but it comes from the author's home tradition and that's how he wants to propose it. The taste is the same and the pleasure in eating them is great as always.
We used Tenera Ascolana DOP olives. It was a jar of 6 pounds c.ca and it contained 540 olives of medium size.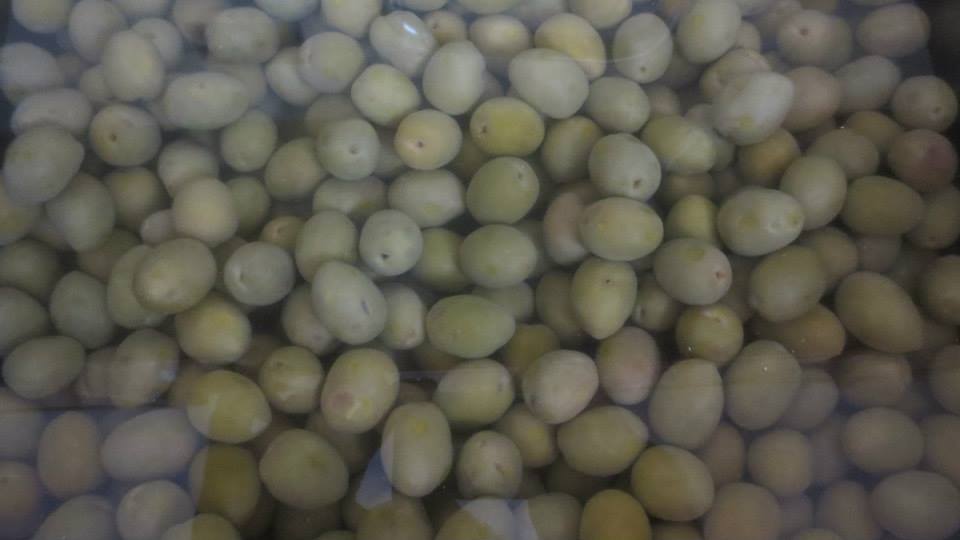 You have to put the olives into water for an hour at least, changing the water a bit of times. Then the olive has to be cut as a spiral to remove the kernel, maintaining the peel united (it will then be put together again with the meat). The cut peel has to be left again in water. Traditionally, there's a particular small knife used for this type of work, with a curve blade.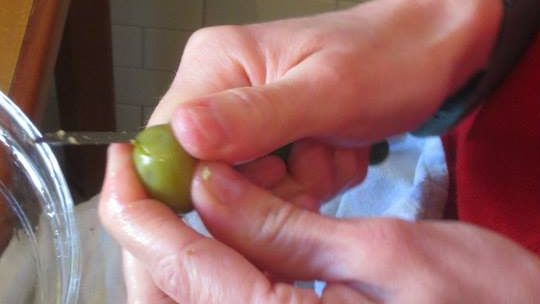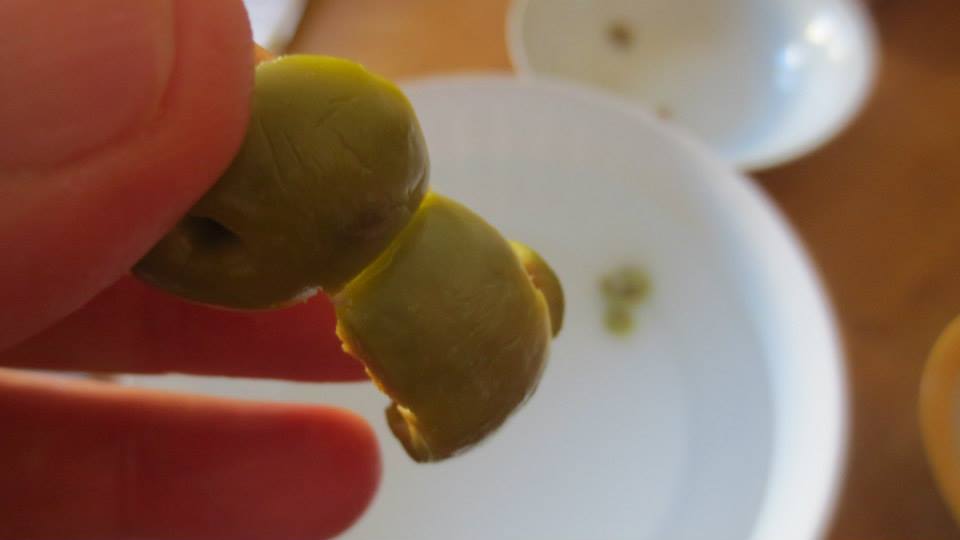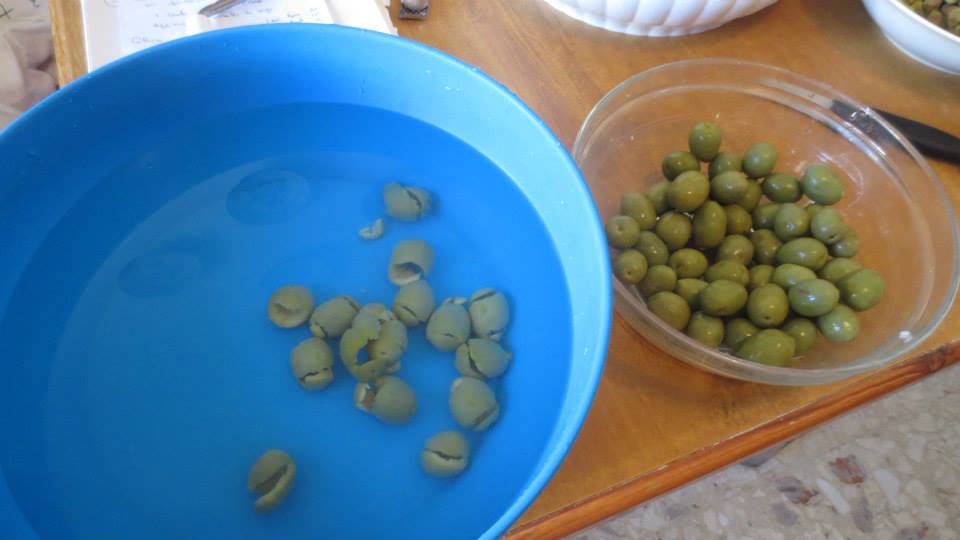 Then it's time to prepare the stuffing: 3 pounds c.ca of beef's meat, a bit less than 2 pounds of pork's meat and a pound of chicken's meat. Cut the meat into small pieces and then put it to cook in a capacious pot with a bit of olive oil. Let the meat brown at high heat.
Then deglaze with white wine and add, already cut into little pieces, 3 medium carrots, 3 stalks of celery and 3 onions. Add a pinch of salt.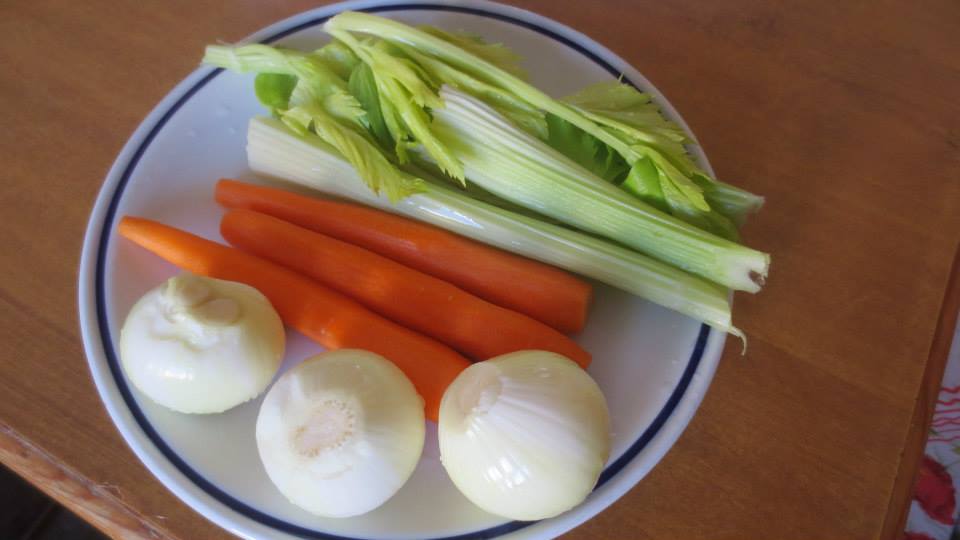 Switch to low heat and let to cook for 45 minutes.
Now it's time for "hard work": the three types of meat have to be grinded together.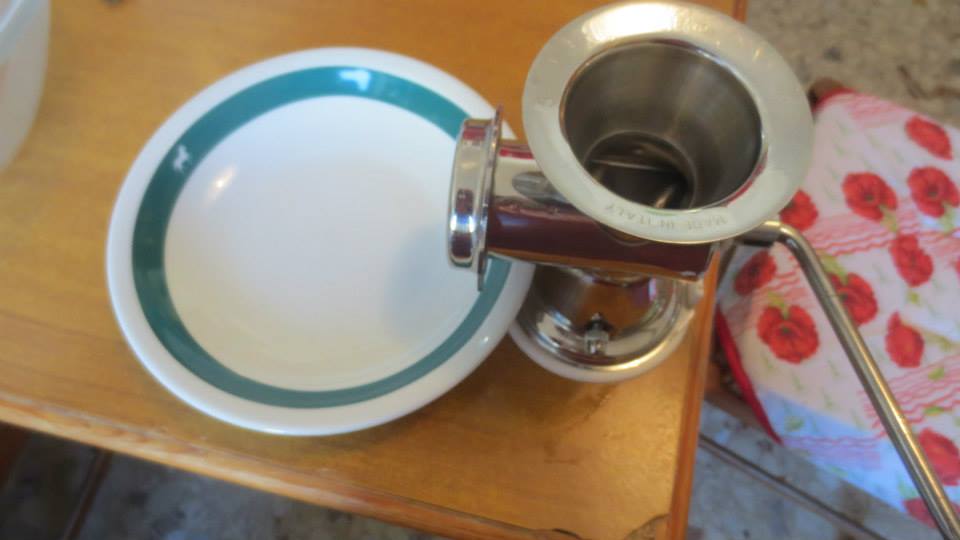 Be careful not to mix the paste with the liquids obtained during the cooking. It has to be, in fact, quite consistent. Verse the grinded meat into a large pot and add 11 beaten eggs.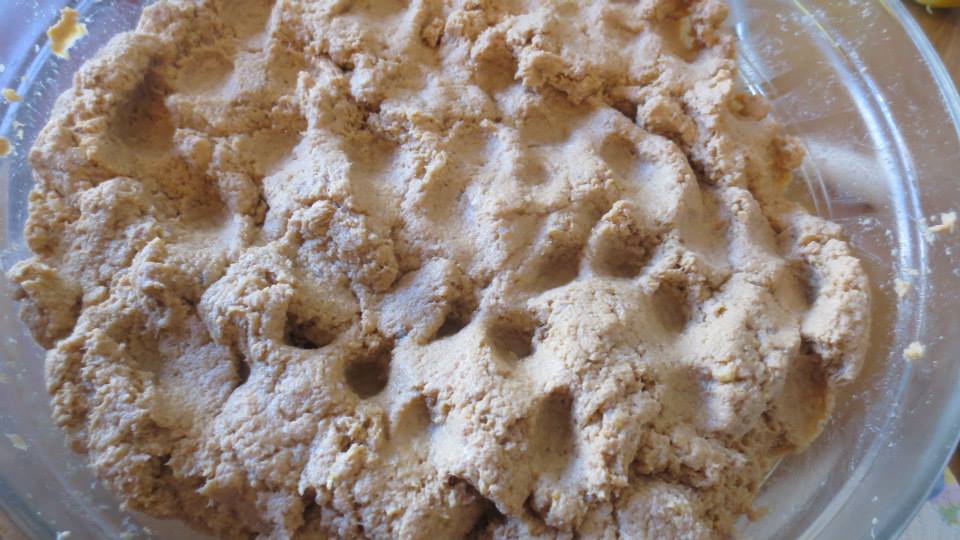 Grind 350 grams of Parmigiano cheese and add it, with half a grinded nutmeg and a lemon's zest.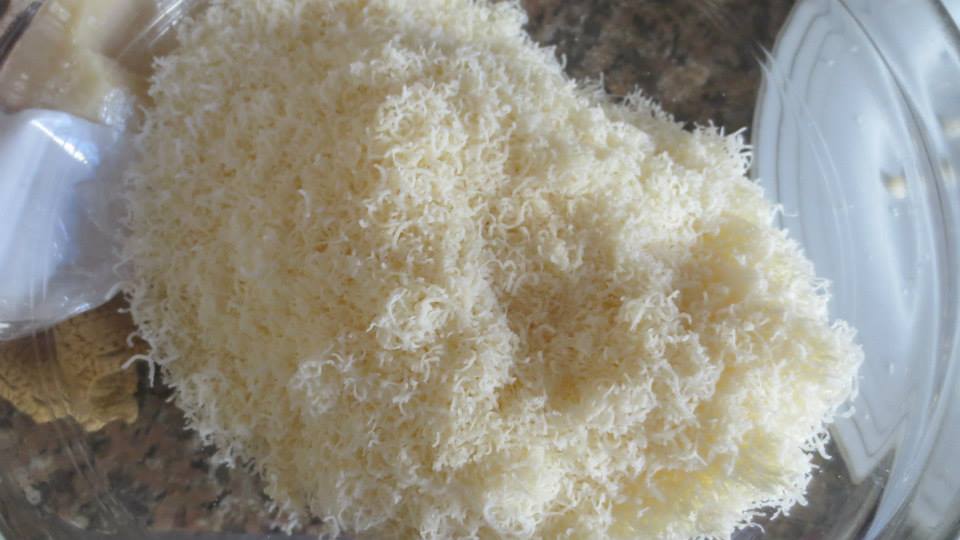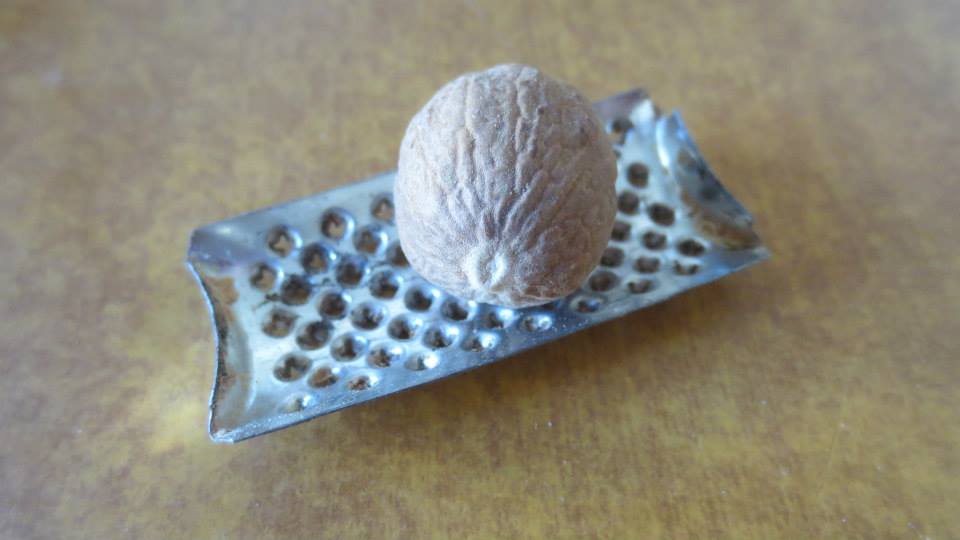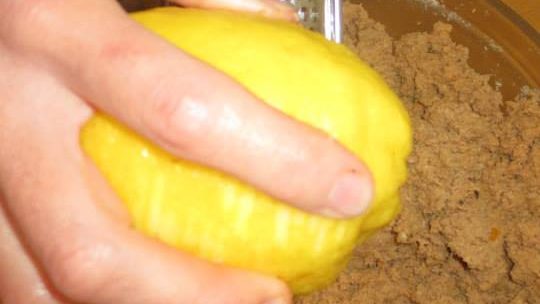 Now that you have all the ingredients, you are ready to proceed to the next phase: the preparation of the stuffed olive. First of all, prepare small meatballs with the paste previously described. Then lay the olive's peel around the meatballs to reshape the olive.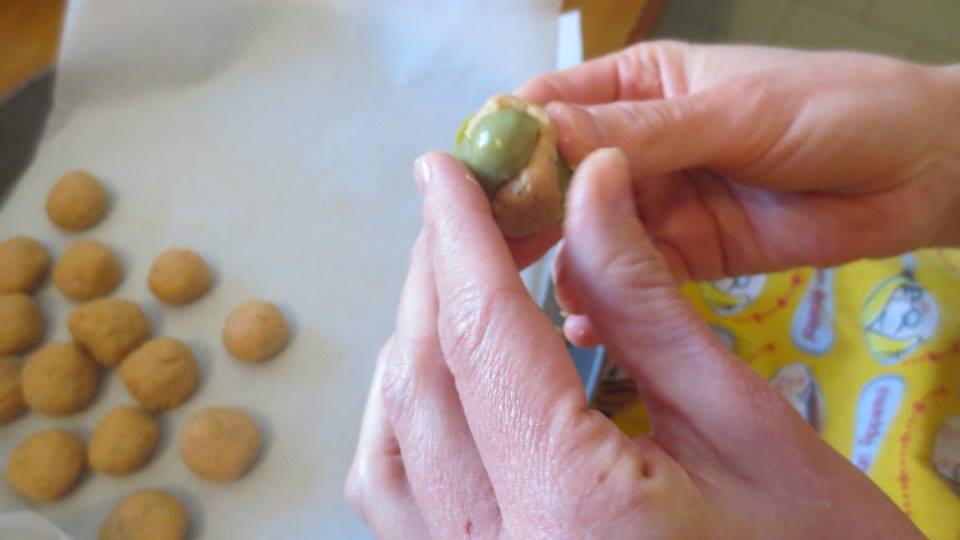 You then have to prepare three containers: one with flour, another with beaten eggs, and the last one with breadcrumbs.
After that, put the olive into the flour, and make it cover the olive well all around. Then put it into the beaten eggs. When you put it out of the eggs, make the olive drip very well, and then put it into the breadcrumbs, being sure to fully cover again the olive.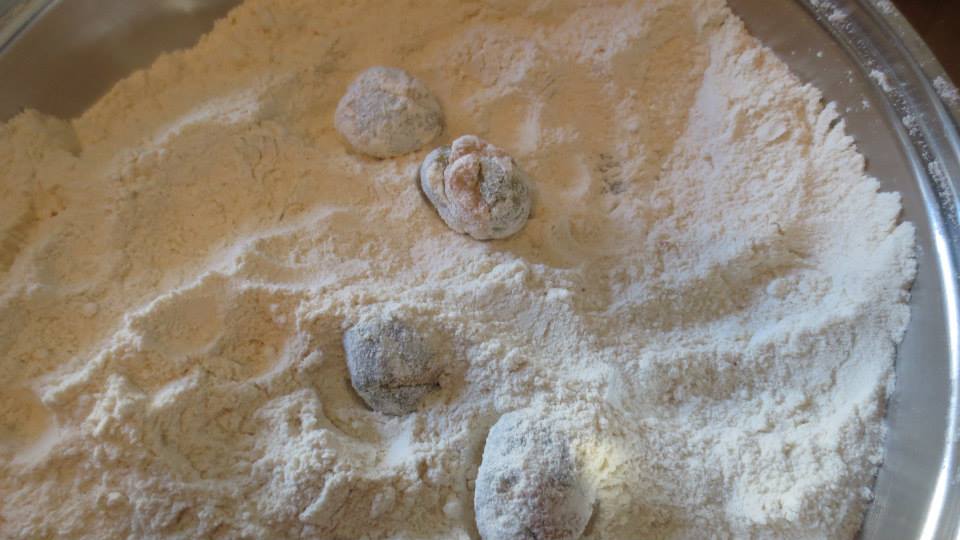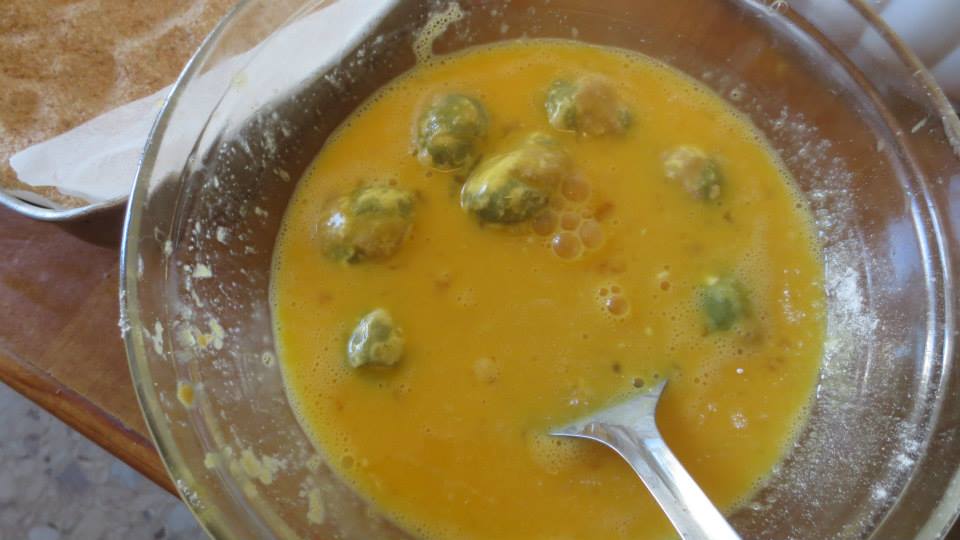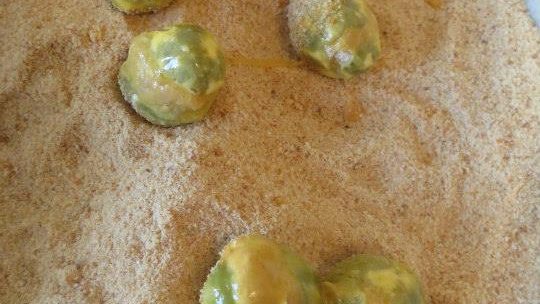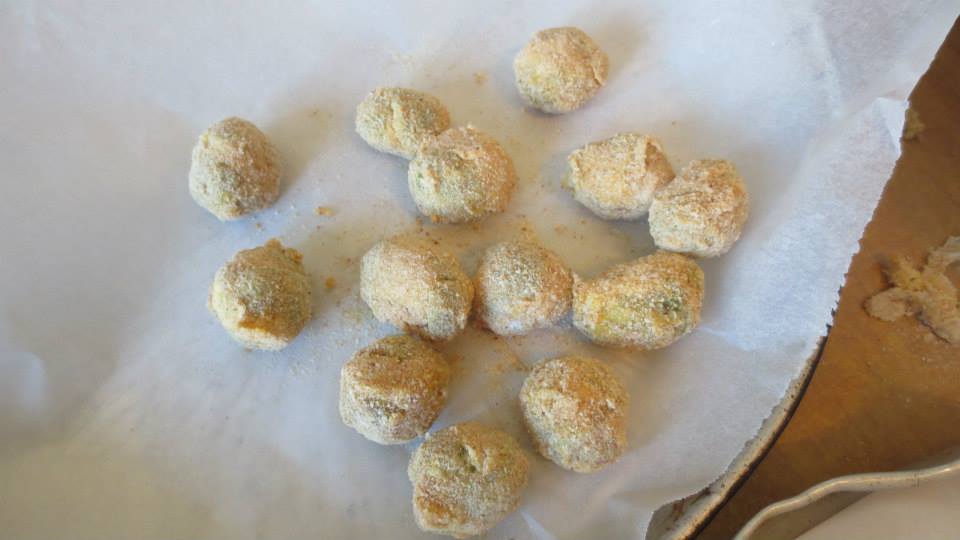 It is now time to fry the olives: we used peanut oil, but you can also use olive oil. The ideal temperature for frying is 170/180 °C (use an oil thermometer if you are not expert with frying). Olives have to be dipped into oil until they are gilded (this takes some minutes). Take them out of oil, make them drip well and then serve.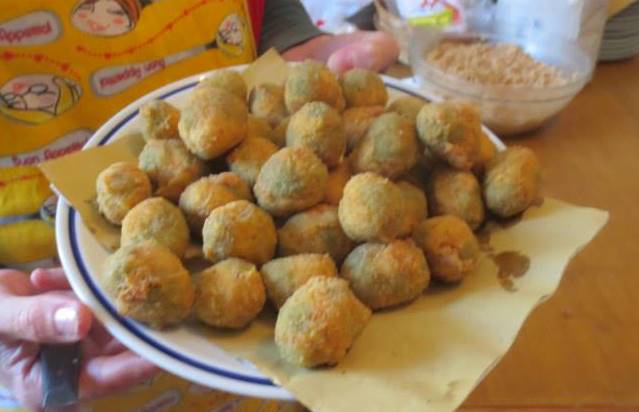 With a work of 6 hours, we have prepared 530 fried olives. We chose the best ingredients, and we are sure that everyone who will try these olives will surely be happy about the result.
P.S.
You can conserve the crude olives with some adroitness. After you have prepared them you can put them into freezer without posing them one on another. When they're solid enough, put them out of the freezer and put them into a plastic bag or a container and then put them again into freezer, so that they won't lose their shape. When you will eat them, simply put them out of the freezer again and dip them into hot oil to fry them.